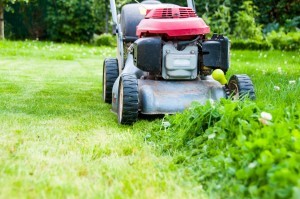 At one time or another, everyone has postponed cutting their grass -- even if it's already overdue for a thorough mowing. Sometimes you have other plans: You're going away for the weekend, it's too hot, or maybe some friends just invited you over for a cold drink. There's no question that priorities often shift and more desirable choices present themselves. However, there are a handful of unexpected problems that could develop if you postpone lawn mowing for more than several additional days. Here are a few potential pitfalls to consider the next time you're thinking about waiting another week or so before tackling that jungle in your yard!
Ground-nesting yellow jackets
: There are a number of reasons that certain species of bees may decide that the soil in your backyard is a highly desirable place to build a nest, but uncut grass and a lack of human activity may make it even more inviting for them to set up shop. Although some ground-nesting bees are not always aggressive, yellow jackets are an exception. Mowing your lawn on a regular basis will not necessarily prevent bees from nesting in the ground, but short grass, regular human activity, and the noise of lawnmower may be somewhat of a deterrent. Keeping your grass well trimmed and your lawn maintained also makes it easier to spot bee activity in its early stages and take the appropriate action. In some cases, "appropriate action" is calling a professional exterminator and avoiding the infested area completely -- especially if you or anyone in your family is allergic to bee stings. Although your backyard should be a fun and carefree environment, it's a good idea to be observant and cautious when it comes to things like bee infestations.
Other unwelcome visitors
: If your yard is relatively quiet and undisturbed by lawn mowing and other activity for a few weeks, you may also discover large animal holes and burrows appearing. Not only does this damage your yard and create a tripping hazard, but there are a variety of undesirable animals -- including skunks -- that could be making their home on your property!
Wear and tear on your lawnmower
: Unless your lawnmower is new, exceptionally well maintained, and designed for rugged conditions, it probably does not do that well in long, thick grass. Forcing an older mower to work harder through heavy grass could cause it to overheat, shut down, or otherwise malfunction.
Obvious drawbacks
: Allowing your grass to grow beyond a couple inches can visibly detract from the appearance of your property. Even if you're not considering putting your house on the market in the near future, maintaining "curb appeal" will benefit neighbor relations and pride of home ownership. If vacations, physical limitations, or a busy social agenda keep you from mowing your lawn on a bi-weekly (or sometimes more frequent) basis, the solution may lie in using the services of an economical professional landscaping, mowing, or yard maintenance service. While it can be satisfying to have "hands on" involvement in keeping your property in tip top shape, sometimes there are other things you'd rather be doing!